"Participating in the UCDC program was one of the most rewarding experiences of my educational career. During the Spring quarter of my junior year, I had the honor of living in the heart of DC and interning for the legal nonprofit organization, The Pro Bono Institute (PBI). In this capacity, I worked alongside attorneys and legal advocates in implementing pro bono legal programs in law firms and large companies across the United States. Over the course of this internship, I fine-tuned my legal research and writing skills through research projects, data analysis, and attending legal conferences around the district. I also honed my public speaking and diplomacy skills through oral presentations and meetings with high-priority clients. This looked like attending the Economic Justice Summit hosted by Georgetown Law School as a representative of PBI and presenting a detailed summary of the two-day conference to PBI's CEO. The topics I researched varied from the use of artificial intelligence in the pro bono space to the roles race and socioeconomic class play in educational opportunities for K-12 students across the country. It was very academically fulfilling to incorporate my own interests into my work at PBI, as my passion is education reform. This program has also greatly expanded my personal and professional networks. Throughout the term, UCSB hosted alum events for students looking to network with former gauchos living in DC. Through these events, I was able to connect with attorneys and government officials on a much deeper level. These opportunities allowed me to explore many different avenues of legal work through the lens of those already working in these spaces. These connections have turned into mentorships that still provide me with guidance to this day. This program changed my life and has energized me to continue pursuing a career in education law and reform. I plan to return to the Capital after graduation to continue my journey in public advocacy."

-Emily Cardona
UC Santa Barbara Class of 2024
Intern, The Pro Bono Institute
 

"Participating in the UCDC program was one of the best decisions I have made during my time at UCSB. The Spring quarter of my junior year I was lucky enough to be able to complete an internship at the D.C. office of Senator Kirsten Gillibrand (D-NY). It was an incredible experience full of learning and excitement. Over the course of the internship I became very familiar with the internal workings of the Senate, getting to observe the legislative process from its earliest stages of thinking up legislation in response to constituents' needs all the way to finished bills being introduced on the floor. I was charged with many tasks, including corresponding with constituents, giving tours of the Capitol, attending hearings, and conducting research. I was fortunate enough to have a supervisor that gave me the opportunity to learn more about areas I was interested in. This looked like attending Senate Armed Services Committee hearings to learn more about missile defense, the current and potential application of AI in warfare, and deterrence efforts around the world. Similarly, I was permitted to choose research topics that I had an interest in. For example, I am deeply passionate about climate change and therefore energy and the environment, and I was able to research international climate agreements between the US, EU, China, and India. Throughout my time in the capital I learned much about myself and what my future may look like. I met individuals who I will be lifelong friends with and who helped and continue to help shape my professional development. Completing the UCDC experience left me more prepared and confident in who I am, what I will pursue, and what I can accomplish."

-Will McMullan
UC Santa Barbara Class of 2024
Intern, Office of Senator Kristen Gillibrand, Spring 2023 
 

"During the UCDC Fall 2022 term, I had the privilege of supporting the Artificial Intelligence and Emerging Technology Initiative (AIET) at the Brookings Institution. I worked closely with researchers and data analysts to facilitate content analysis, data, writing, editing, and sourcing for various policy research reports, including an assessment of misinformation in the political podcasting ecosystem and Russian propaganda campaign about Ukraine in Latin America. I was able to engage with notable scholars and working professionals in the field while AI/technology emerged in critical areas of discourse in foreign policy, governance, and national security. I also gained valuable insight into the cross-discipline of STEM and data science in policy making and explored an array of career opportunities that I would have never considered before. I am grateful for the UCDC program for helping me make the most of my time at the nation's capital and to all the mentors and Washingtonians for their valued guidance and career advice."

- Melody Chen
UC Santa Barbara
Statistics and Data Science; Philosophy, Ethics and Public Policy Emphasis
Research Intern, Brookings Institution, Fall 2022

                                                                                                           

"My experience in the UCDC program was one of the highlights of my entire time at UCSB - not only did it allow me the opportunity to study and work in a completely different location and take advantage of being in the capital, it also provided me with a wealth of resources to help me plan my future academic and career endeavors. I gained so much knowledge about how prominent career fields in D.C. work through my interactions with mentors, professors, and working professionals in the area, which all helped lead me to my career today. I was able to make long-lasting connections with my coworkers at my internship, my roommates, and fellow UCDC participants. While my courses at UCSB were crucial to my academic experience and subjects I was passionate about, getting hands-on working experience is a completely different aspect of deciding your professional goals. I am so grateful that my time in the UCDC program allowed me to have that, and I would recommend it for any student with an interest in politics or similar fields!"

-Ashta Nigam
UC Santa Barbara Class of 2022
NewDeal Intern, Winter 2022                                                                                                                                                          

 

"My experience at UCDC is something I will cherish forever. I not only had the opportunity to meet wonderful people, and be a part of a great internship like the Political Violence Lab, but I was able to learn a different part of myself through this opportunity. This program allowed me to explore my options in terms of my career and educational aspirations. I can now say with great confidence that I know what I want to do in the future. If I didn't take the chance to go to D.C. in the spring of 2022, then I wouldn't have been able to experience what the city has to offer and the vast array of connections that I made. I was also able to travel the east coast and go to different states such as Delaware, New York, New Jersey, Virginia, and Maryland. The UCDC program is definitely one of the best things I've done during my time here at UCSB."

-Lauren Garibay                                                                                                                                                                          
UC Santa Barbara                                                                                                                                                                        
Research Intern, Political Violence Lab, Spring 2022                                                                                                                                                                 

 

"Through UCDC I was able to explore new parts of the country and immerse myself in east coast culture. As an intern, I had the opportunity to hear from people with different backgrounds and legal statuses. One-on-one conversations with workers fighting for unionization and equal pay were among the highlights of my research. As an advocate for our rights and fair pay, my involvement in organizations was a valuable opportunity for me to give back to my community. Through working with a non-profit organization and participating in its social media advocacy regarding labor union rights, I gained knowledge of the process of working with a non-profit organization."
 

-Shanink Xilonzochilt Enriquez
UC Santa Barbara
Advocacy Intern, Labor Council for Latin American Advancement, Winter 2021

"I participated in the UCDC program because I wanted to gain internship experience before I graduated. As a first-generation college student, the UCDC program has given me the opportunity to go out of my comfort zone and challenge myself to adapt to a high-paced working culture. One piece of advice I would give to a student who is considering applying to UCDC would be to have an open mind and to take pride in your work. Being a so-cal native the adapting to the east coast weather was a challenging but I was grateful for the opportunity to live on the east coast"

 

- Noel Huerta

UC Santa Barbara 

National Whistleblower Center (NWC)

Winter 2022

"I had two internships where I managed social media pages, created content, wrote newsletters, designed graphics, and coordinated with both of my organizations' teams to learn and develop my skills in the short time I was in D.C. These experiences taught me how to communicate in a professional manner and helped me develop my own interests. They also showed me how to manage my time in an effective way and how to work with a team while developing and operating different projects.  Students should participate in the UCDC program not only for the valuable professional experiences it provides but also for the personal growth that happens during this program."

-Cathryn Noel-Veatch
UC Santa Barbara
Communication Intern, Association of Professional Schools of International Affairs (APSIA), Fall 2021
Social Media Intern, D.C. LGBT Center, Fall 2021

"I have gained valuable professional development experience that could not be replicated solely by taking classes at my home campus. For example, my resume and cover letter went through several iterations during the intership search process. I feel that I can better conduct myself over Zoom and in a room full of professionals. I learned how to advocate for myself in the work environment and feel prepared for the next internship or job that I take on."

-Sophia Castro
UC Santa Barbara
Interned with Libraries Without Borders during the remote Spring Quarter 2021
Read more student experiences on our blog: https://ucsbcipblog.wordpress.com/recipes/
Visit the social media links below to hear from our students and to learn more about what's going on at UCSB, Sacramento and D.C.!
UCSB Capital Internship Program Instagram
Click on the image below to connect with the Capital Internship Program on Instagram!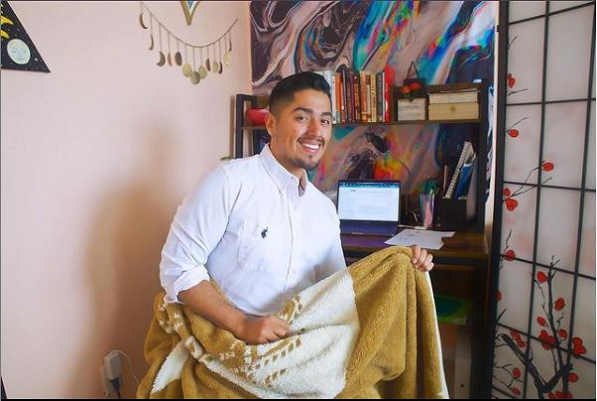 UC Washington Center Program Facebook
Check out current student profiles and current activities at the UC Washington Center.

UC Sacramento Program Facebook and Instagram
UCCS Facebook and Instagram accounts will provide you with a preview of their current events and student experiences.